==================================================================
The Philosophy of "Paint-by-Number!

The phrase, "Paint-by-Number" sounds hokey-- but it means business: In the context of producing and marketing serious, commercially-viable fine art.
John Guthrie hand-painted, acrylic multiple-editions...for ten years (before issuing a single "print"). His philosophy was to give "hand-painted" value-for-money. THAT is "Paint-by-Number"!
He sold over 200 paintings during the first five years of his artistic career. There is no way OTHER than "Paint-by-Number"...to enable the simultaneous painting of six "One Eyed Jackies" (seen below, and now installed in a home at Vail, Colorado).


By the time Guthrie painted "Six Pack Jackie" (above) in early 1991, he'd been painting only a little over two years. By then, he'd sold over 100 paintings and had gone from just one gallery (his first was on the south side of Prince Street in SoHo, New York City)...to three regional galleries in the first month (NY, Scottsdale, Palm Springs)...to 20 galleries around America in the first year (and representation in Europe by Paul and Marie Renoir of Belgium and Paris).
The first thing that John Guthrie EVER PAINTED-- with no prior training or experience-- was the black and white photo of Tom Mix, the silent-era movie star, you see below! This photo was a 1928 public-domain publicity shot from Fox Studios: Showing Mix, standing outside a movie sound stage in 1928: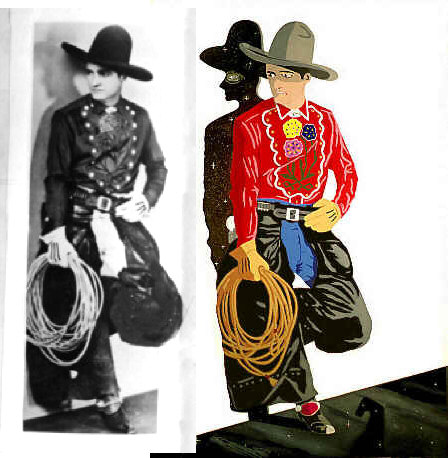 As you can see above: It's ONE thing to simply paint a photo. It's ANOTHER thing to CREATE AN ENTIRELY DIFFERENT CONCEPT: Like taking a movie cowboy and suspending him in outer space...walking through the movie screen with a cut on his mouth (since "talkies" killed Mix's career) and create (in 1988) an image that shows humanity, stepping through the fleeting (screen) moments of the 20th Century, wearing the analog values of the 19th Century and stepping into the digital future of the 21st Century!
Killed by "talking"(the most heroic thing a person can do is say what's on their mind and take the consequences) Tom Mix "Transcends the Veil" upon his death and stands in the light of God...a REAL STAR! And the Horsehead nebula awaits him! That is "Art"!
Guthrie's paintings now hang in hundreds of homes, in the art collection of the U.S. Air Force, the offices of University deans and presidents, silicon valley leaders, museum collections; Even in the office of the Vice President of the United States.
Art is really nothing more than a highly intellectual and emotional form of interpersonal communications.
In the communciation-cycle of art, the artist "makes a statement"... and the audience/viewer "receives" that statement-- or rejects it.
From a communications "theory" standpoint, "Art" doesn't really exist-- unless it's accessable. In that context, a sunset is "art"--since it's accessable by all who view it. Museum art collections are like a sunset. The viewer has a limited time to appreciete the item...before closing time darkens the venue. From a commercial standpoint, "Art" is what can be sold to an appreciating audience: Collectors, admirers, etc...who can take it home and enjoy it forever, on their own terms.
No communuications is complete without feedback (positive or negative), so, simply painting something, "For the joy of painting" is a nice hobby. Sure, it's creative... but "So what?" If nobody sees it, there's nothing "communicated", except (to/from) the "Artist" who created the "art" (and that person knew about "the vision"-- long before it was put on canvas or carved out of rock)! So what is it..."practice art"?
REAL ART, on the other hand, IS completed-- not "imagined"...not "dreamed up": When art is completed and installed somewhere public (like a gallery or museum or other viewing venue) an audience can see the artist's fantasy! THAT communications is an intellectual and emotional communication of CONCEPT... followed by the textbook elements of composition, form, color, etc.
And if the art is DONE WELL, then the "textbook" elements (just listed above) disappear completely in the mind of the viewer...as he/she is swept into the fantasy of the artist... becoming the art itself for just a moment!
AND WHETHER YOU LIKE IT OR NOT!!!

"Rattlesnake Medusa"



If you want REAL "Paint-by-Number", you really want a coloring book!
Fine! This "artist" also maintains another cartoon web site: featuring the character, "Zero, Hitch hiker of the Information Highway". There is the MOST REAL "paint-by-number"...

The ZERO COLORING BOOK!
Have fun making your own "artistic statement"!
John Guthrie's most famous painting

(see on TV from USA-to-Russia!)
"Tom Mix Transcending the Veil" on the Skyline Drive In theater screen, Laramie, Wyoming (1991-1992).
"Tom Mix, Transcending the Veil"

CLICK HERE to see (with MUSIC) the LATEST INCARNATION of "Tom Mix" (as a print edition, called, "The Millenium Cowboy").

Laser Radio Corporate Home Page

Please note: All artworks and photography on this web site and at www.zero123.com are protected by U.S. Federal Copyright Law Copyright Notice, 1977-2001, Laser Radio Inc.
For more information
Email Laser Radio!
or Call/ Fax: (307) 742-7117 (U.S. and International) or

Or write to Laser Radio at P.O. Box 1242, Laramie, WY , 82073, USA